Editors' Note
The American and British Studies Annual has just entered the second decade of its existence. We have decided to celebrate the occassion with a new design of the annual's cover, replacing the old one depicting architectural icons of both British and American cityscapes with a new, minimalist graphic design inviting freer interpretations. Not only does it correspond better with modern aesthetics, but it also expresses interdisciplinary character of our periodical. We sincerely hope that you will enjoy both the content and the new form.
Mission statement:
The American and British Studies Annual (ABSA) is a scholarly peer-reviewed journal focused on American and British cultural studies. Our aim is to create a platform for scholarly exchange not only within the Czech Republic but internationally. We seek original articles that explore wide range of issues concerning American and British literature, visual arts, music and other cultural phenomena as well as cultural history. The editors encourage submissions from scholars working in various disciplines with interests in American and British cultures, as well as articles with interdisciplinary perspectives on those cultures. We also devote a portion of the journal to outstanding undergraduate student contributions.
In 2010, the American and British Studies Annual was enlisted in the National Index of Peer-reviewed Scholarly Periodicals published in the Czech Republic.
The journal is also listed in the SCOPUS database and in the ERIH Plus list (European Reference Index for the Humanities and Social Sciences) of the European Science Foundation (ESF) and the Norwegian Social Science Data Services (NSD).
---
| | | | |
| --- | --- | --- | --- |
| | | |   |
---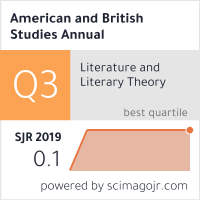 ---
Contributions, reviews and announcements respecting guidelines for submissions are welcome at sarka.bubikova@upce.cz The deadline is 31 May.
All submissions will be subject to anonymous double-blind peer review. Our reviewers are experts from various universities and research institutions in the Czech Republic, Slovakia, Poland, United States and other countries.
By submitting a paper for publication in ABSA, the author agrees that its fulltext may be made available online in EBSCOhost database.
Contacts
American and British Studies Annual - redakce
Department of English and American Studies
Faculty of Arts and Philosophy
University of Pardubice
Studentská 84
532 10 Pardubice
Czech Republic
email: sarka.bubikova@upce.cz, ladislav.vit@upce.cz, olga.roebuck@upce.cz
Editorial Board:
Chief editor: Šárka Bubíková, University of Pardubice
Executive editors: Ladislav Vít & Olga Roebuck, University of Pardubice
 
Board members:
Antonella Cagnolati, University of Foggia
Bernie Higgins, Charles University, Prague
Petr Chalupský, Charles University, Prague
Stanislav Kolář, University of Ostrava
Zofia Kolbuszewska, John Paul II Catholic University, Lublin
Bożena Kucała, Jagiellonian University, Krakow
Bohuslav Mánek, University of Hradec Králové
Lucie Podroužková, Masaryk University, Brno
Daniel Paul Sampey, University of Pardubice
ISSN: 1803-6058
Indiviual issues can be ordered at: www.kosmas.cz